Indulge yourselves with our finest flavours at Z4-B43 in new Za'abeel Hall.
It has been already 5 years since FLAIR syrups were introduced to the prestigious GULFOOD show! Since then a lot have happened…
• FLAIR syrups launched and established strategic partnerships, in several countries in the MENA region, building up a growing market share.

• FLAIR syrups created new products to serve happier customers. Several new flavours have been added in our portfolio the last two years as a result of a close cooperation with our local distributors and end users.

•FLAIR syrups have been HALAL certified, in order to meet successfully the new needs and demands of its new customers.

• FLAIR syrups will be presenting during the show its new gourmet sauces for garnishing your desserts and beverages.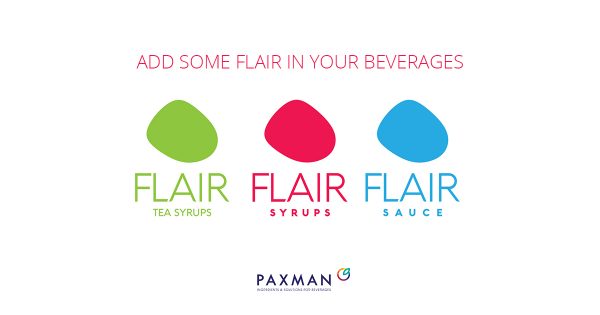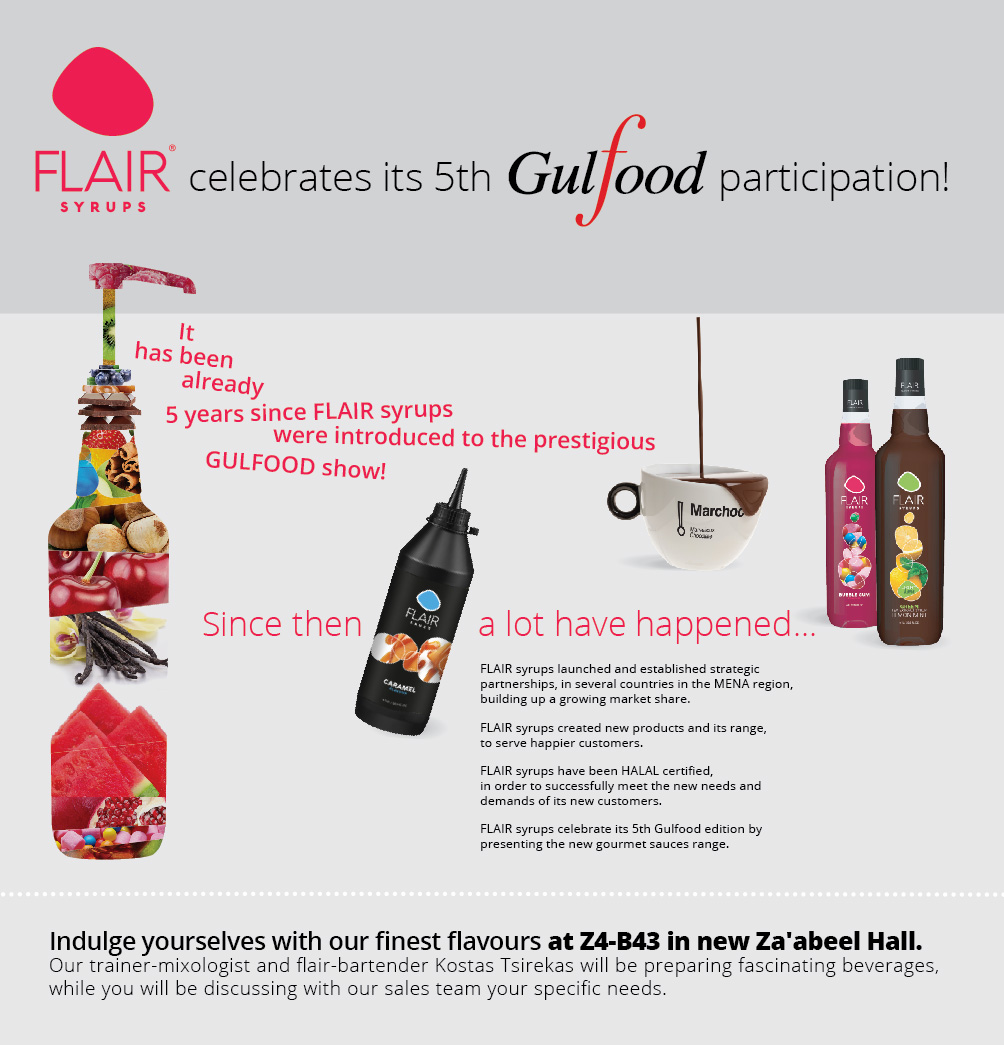 Our trainer-mixologist and FLAIR-bartender Kostas Tsirekas will prepare several mocktails, coffee beverages, chocolate and milkshakes variation. Here are some of the FLAIR signature beverage suggestions:
• Wild Thing: Orange FLAIR Syrup – Vanilla FLAIR Syrup – Strawberry FLAIR Sauce – Fresh Lime – Soda

• Sweet Dreams: Amaretto FLAIR Syrup – Banana FLAIR Syup – Fresh Lime – Soda

• Bubble Bubble: Bubble Gum FLAIR Syrup – Mango FLAIR Syrup – Fresh Lime – Soda

• Cucumber Love:Cucumber FLAIR Syrup – Ginger FLAIR Syrup – Fresh Lime – Soda

• Start Me Up: Mandarine FLAIR Syrup – Apricot FLAIR Syrup – Cherry FLAIR Sauce – Fresh Lime

• Night Fever: Passion Fruit FLAIR Syrup – Peach FLAIR Syrup – Strawberry FLAIR Sauce – Fresh Lime

• Hot Caramel Latte: Caramel Flair Syrup – Hot Milk – Espresso Coffee

• Orange & Chocolate freddo Coffee: Orange flair syrup – Chocolate – Espresso Coffee

• Amaretto Cold Latte: Amaretto Flair Syrup – Cold Milk – Espresso Coffee

• Special Mochaccino: English Toffee Flair Syrup – Chocolate – Espresso Coffee – Cream – Dark Chocolate Sauce

• Banana Dream: Banana Flair Syrup – Cinammon Flair Syrup – Espresso Coffee – Cream –White Chocolate Sauce

LOOKING FORWARD TO MEETING YOU SOON…